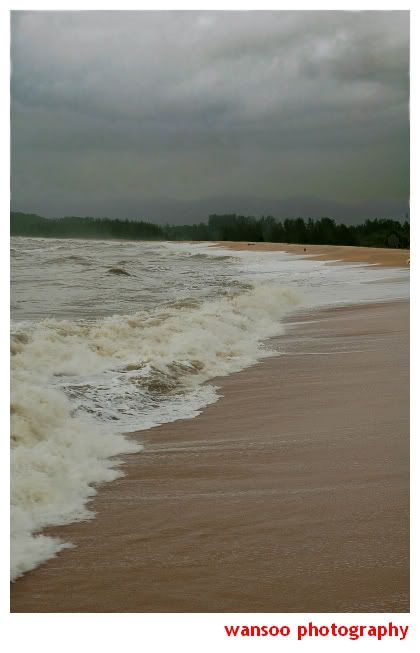 Indeed this is the best time in Terengganu. Monsoon bringing in strong cool wind, heavy rains, big waves, high tides and subsequently floods. Along with floods come in "Main Air Bah" or "Water Festival" more or less.
In the days of old, "Main Air Bah" was the most awaiting event in a year, or, it was a genius method of bringing out the happiness from the misery of monsoon.
In the days of old, rain fell down days and nights. In the days of old, in this season, we survived by heaps of ikan kering and ikan bilis. We rationed our food and our parents rationed their money as from November to early January, more or less are the No Income months. Neither can go out for menoreh no can venture out to sea.
Well, not much change till today. Unlike the ultra modern super fishermen in the North Sea, we still shut our fishing industry down during this monsoon season. Not much we can do anyway except bring in our boats to the safe harbour and counting days when the wind be somewhat lesser, thus the waves be somewhat smaller.
Today, the whole fleet of Kerteh Fishing Armada is mooring in Kuala Kerteh. Not a soul ventured out as at Muka Kuala, waves are trashing the "beting" and the risks may not worth the gains...
For some, life really is an adventure...